January 2 2019
GATHER:MAKE:SHELTER
DONATES $10,000 TO PORTLAND SOCIAL SERVICE ORGANIZATIONS SERVING HOUSELESS COMMUNITIES
GATHER:MAKE:SHELTER CONNECTS OUR COMMUNITY.

Over eight months in 2018 our successes were made possible with
the participation of over 1,000 people in Portland, Oregon through
the generous donations and hard work of local artists, painters, ceramicists, philanthropists, local businesses and everyday citizens.
GATHER:MAKE:SHELTER is a community art project for the people,
by the people and is something our founding director Dana Lynn Louis considers "a web of love throughout the city, connecting us one strand at a time."
WE THANK YOU FOR JOINING US.
The Portland Tribune: "Painting Project Reaches to Homeless"
Gather: Make : Shelter City Wide Celebration and Art Sale
Read about our partnership with Street Roots!
Joseph Gallivan, on KBOO, interviews sculptor Dana Lynn Louis about her project Gather:Make:Shelter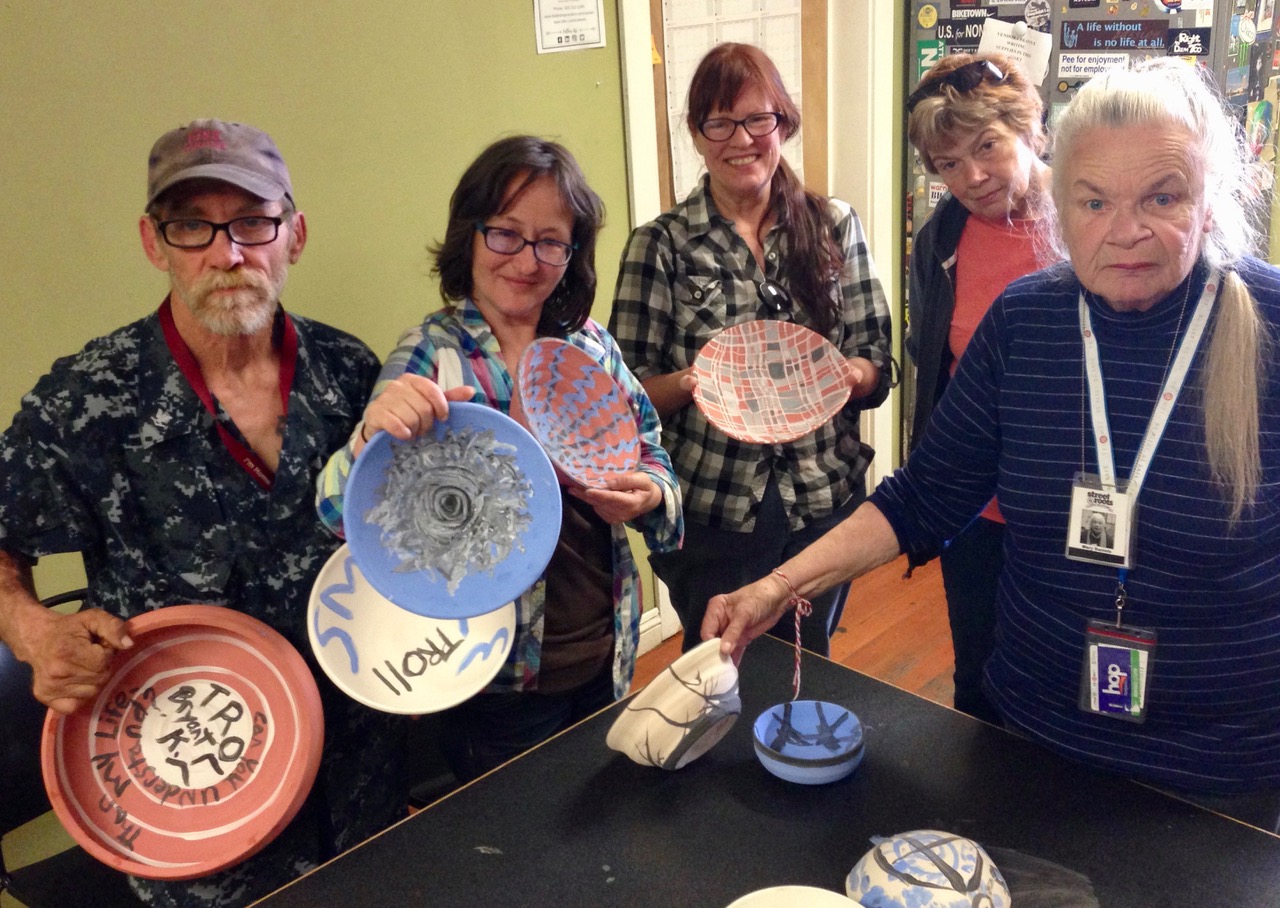 TESTIMONIES
Kathy Pape – Senior Program Officer Central City Concern
"Central City Concern has three programs that have engaged with the Gather.Make.Shelter project. Our clients have experienced homelessness, addiction and mental health challenges. Clients have raved about the bowl painting experience! They have loved the opportunity to express themselves and chat with other clients as fellow artists and peers. There is one photo Dana shared with me that I have saved on my desktop at CCC. It's a photo of a man holding his finished bowl -- there is so much joy and pride in his face! When I try to communicate the impact of the Gather.Make.Shelter program to someone, I usually send them the photo and they get it."

"On Sept 23rd, all of Dana's efforts will come together and the public will have a chance to see the beautiful creations of their fellow citizens. When people are distanced from social problems - and many people are distanced from people living on the streets - it's difficult to envision a hopeful solution. The bowl project is bringing people together and creating that hope."
Roya Amirsoleymani-curator at PICA
"I believe in this project. It feels truly people-centered and walks the talk of merging art, activism, and social justice. It inspiring, moving, rigorous, and utterly human, addressing urgent issues through a truly creative, relational and empowering process that makes a real difference."
Christina Newcome –Human Solutions
"The women are still talking about yesterday's workshop, what an outlet for them and they all felt proud knowing that their participation is going towards something the benefits the entire community! Thank you again for your tireless work in bringing everyone together. It can often feel like this is one big competition to the people we serve all struggling to get access to the same, limited, resources. You've found a unique and thoughtful way to get all hands in the pot/bowl-so to speak! Can't wait to have you back!"